Name:
Raven Lynn Johnson
Age:
21 Years Old
Gender:
Female
Requested Rank:
Warrior
Pack:
Eternal Darkness
Human Photo: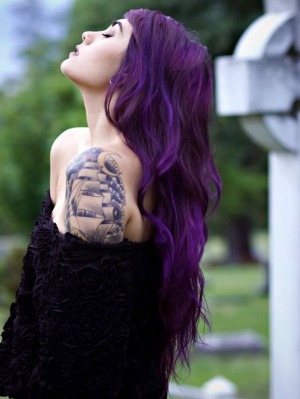 Wolf Photo:
Joining Keys:
Keys have been removed... blah blah... ~Ze Evil Alphess
Summary:
Her story starts just as any others. Two lovers decided to go all the way, and have a son. They were happy with just one offspring, though things got out of control for nine months, and poof..an accidental daughter. Finn father attempted to convince Mary that they didn't need another child. "I thought we were happy.." He'd whisper to her at night, with a mask of sadness. Mary contemplated this, it was...probably best if she did give the baby inside her womb an abort, though she knew it was too late. The deed had been done. Popping out the baby from her oven, Mary had planned on naming the little girl something usual, her mother's middle name perhaps, but when the doctor placed the small newborn in her arms, and Raven gazed up,practically blind, she knew the child was special "...Raven.." From that day on, her little bird went by the name of Raven, despite Finn's protests. Both parents agreed to love their little mistake equally as they loved their eldest, Elliot, but for Finn that was hard. He never truly like the idea of children. One was enough for him, so you can see where he was getting at. "I thought we were happy! Mary.." He started that up again after awhile. Mary would reply with a little nod and "We are happy." Raven, of course, was oblivious to this feud among her parents. She was just a growing child who thought of the world as rainbows and unicorns. She had no care in the world. As long as she was standing on her own, two feet, Rave was happy with her life. At school, she had friends, crushes, and male teachers that made her swoon. Even at a young age, the girl was brought into the other world, one where everyone wants to suddenly grow up, one where you're picked on for not being like others, the type of world parents try to avoid their kids getting sucked into.
In the fourth grade, Raven made friends with the wrong people, ahem, kids. She was born into the wrong generation. And though Mary and Finn tried to pull Raven out from the hole she had dug herself into, she was stuck. "You are confined by the walls you have built yourself." Raven's grandmother would say, looking directly into Raven's dark orbs. Of course, the girl never paid much attention to the old bat. Now, let's get to the really interesting part. Her story changes dramatically now. This time, the world wasn't about drugs and sex and all that..this world that she was brutally thrown into was supernatural. A world that shouldn't have existed. That world should have just stayed at a fairy tale to the 11 year old..it shouldn't have ever become a reality. On the night of Elliot's sixteenth birthday, they were attacked. By a giant dog. Or so that's what Raven thought. Just an ordinary, homeless, aggressive dog. One that was so angry..rabid, it ate into her parents alive, ripped out her brother's windpipe, and dragged her into a pile of prickly horned bushes by her feet, and left her there to die. She didn't die, though. The "dog" did nothing to her.
It stared down at her with the most amazing blue eyes she's even seen, growled, then spun around and bolted away, leaving her with bruises and bite marks. In the hospital for rabies shots, Raven soon, shockingly, found out that the dog, was no dog, in fact it was a wolf. Though somewhere deep inside of her heart, Rave knew it was a werewolf.  Eventually, the girl was shipped off to go live with her hateful uncle and his new wife. Life there wasn't any better. Her uncle accused Raven was "murdering" his sister, and locked her up downstairs..in a cold, brick room. She got meals, had a bed though it was hard, so strange and unusual to her old, comfy beds, and some sheets that were cleaned every other day. She had nothing to really complain about yet. She was left alone in the room, and every two hours, her "aunt" would come down and teach her things, seeing that she wasn't allowed to go to school. And though there was this..bittersweet, wicked voice constantly asking permission to slaughter the older woman, Raven found the tiniest control, and behaved. She allowed her aunt to torment her with words. "All your fault, dear." She'd hiss, which caused Rave's wolf to snarl, but her aunt didn't know that. No one knew that Raven had a "friend." A earthly coated wolf with a wicked, wicked mind. But Raven's story was starting to look up! Because her uncle and aunt were so ever intoxicated, and didn't bother to lock up the stair door. She left. With a large backpack filled with things she needed, Raven disappeared into the night, and hasn't seen those two since.
What happened to her after that? Well, the new teen
hid away from people, sneaking out at night to get the things she desperately needed. Food and Water. She was like a bat..she slept all day then came out at night, eating before she waited until sunrise, just so she could sleep again. One night, while eating on a bench by this old, scary looking play ground, a man sat next to Raven, asking her all these questions. Night after night, Raven returned to the park to find the older boy there. Some time later, he offered his home to her, and she accepted. She couldn't just wander around any longer. Besides, here was an opportunity..to be human again. After settling in for a few months, Raven called the little place home. Until again, she was chased off. One of the boy's neighbors recognized the girl. Her uncle, he posted pictures of her on a "missing" board. The elderly man called the police, and while Raven ran, her friend was arrested for hiding a run away, and that was the end of that "couple".
Example Post:
"What's depression like?" He had asked minuets ago, though now they lay there in silence. Their limbs tangled in the sheets as they both stared up at the ceiling. It was like this every night. They didn't touch, actually they each had a side of the bed, and the rule was; you weren't allowed to cross that line. Raven sometimes hated the rule, but the boy and her weren't a couple. They were nothing. The male was just hiding her from the police until she could get back onto her feet. Twirling a strand of newly dyed purple hair around her slender finger, Raven looked over at the male. "It's like..drowning except you can see everyone around you breathing." She wasn't sure if that made any since to the human beside her, because she wasn't even sure that was the right way to explain her "condition". The boy beside her turned to meet her gaze, his deep blue eyes searching her grey looking ones. "Oh." Was his response. She knew it. That the male wouldn't understand. Who would? Stretching her arms, Raven turned to face her back to him, while she rested herself down.
Silly little girl. When will you stop this?
Oh, how she loathed that voice. Laylani was a beautiful creature, Raven had to admit that, but the way she looked at Rave, spoke to her, it scared her. What if one day, Raven wasn't able to help herself, and she became exactly what had turned her? A monster.
You already are one, darling.
She stifled a sneer that was directed for her wolf as she waited for her "friend" to fall asleep. When his breathing relaxed, Raven sent a quick smile before she closed her eyes tightly. Leave me alone, Lani.And then she was asleep. Until there was a sudden pounding on the door. Raven groaned and listened her her partner in crime repeated her actions, before he got up to answer the door. Raven curled up tighter, though, and attempted to listen to the conversation..before Laylani let out a snarl and began to ramble on, and on, about Raven needing to get up. "What?" She whispered aloud, sitting up in bed to look around.
Hurry up! You need to go! Out the bathroom window! Go!
Laylani commanded, the fur on her back rising as her anger raised. Raven didn't understand, but when her wolf was angry and urgent like this..well, Rave knew there was a reason. Throwing the multiple blankets off her body, Raven grabbed her suitcase, glad that she had decided to leave things packed in. Running into the bathroom, the girl closed the door only to hear footsteps enter it..then someone attempting to rattle the bathroom knob. Growling, the little girl flung herself out the window, also glad that ground was just right there, before she ran. And she didn't stop until she was far, far away..~
Blinking, the girl shook off the memory like one would a jacket, before she let out a loud sigh. She spent most of her lonely days recalling things that had happened in the past, though this seemed to be the most frequent memory, besides the day she was bitten, of course. That memory followed her around like a dark cloud, reminding her of the world she was dragged into. Though it wasn't so bad, being a werewolf, Raven still wished her parents were alive. She still wished..she was human, and didn't have to worry about silly things such as packs, wars and such.  It was depressing, watching others float around her with great moods, while she sat there, envying their happiness. Oh, and not to mention the term "love".  That word sent a shiver down her spine, longing in her heart, and caused Laylani to snarl until her saliva slipped through her yellow fangs. Love was a word that has forced Raven to loathe it. She was much better off without it, because when you get yourself caught up in someone else's web, whether they had become your lover or you thought of them as a close friend, you no longer had yourself to worry about.
Clucking her tongue, the purple haired girl tilted her head back to feel snow flakes kiss at her cheeks, before she looked back down, sighing once again. She knew she couldn't live like this anymore. All those nights she spent alone..in her little hotel room, drinking her problems away. She needed a pack, and her "friends"..the ones she had left behind so long ago. Raven had a tendency to run from her homes. Because she was scared. Really, she was. Everywhere she went, she seemed to leave a trail a fire, scorching anyone whom attempted to get to her. Of course, she blamed her wolf who had bitten her. Coughing, Raven lifted her grey orbs to look across the dark park, staring at an old woman who was huddled in an old, fur coat. Despite the cold that forced her old bones to quake, the old woman smiled at the darkening sky. Raven envied the older woman. In hard times, this elderly woman seemed to be optimistic and happy. Raven wasn't sure how someone could hold onto hope like that. Rave knew she used to, but it's been slipping from her clutches for awhile now.